Juliet
760 Johnson Street, VICTORIA, BC V8W 0A4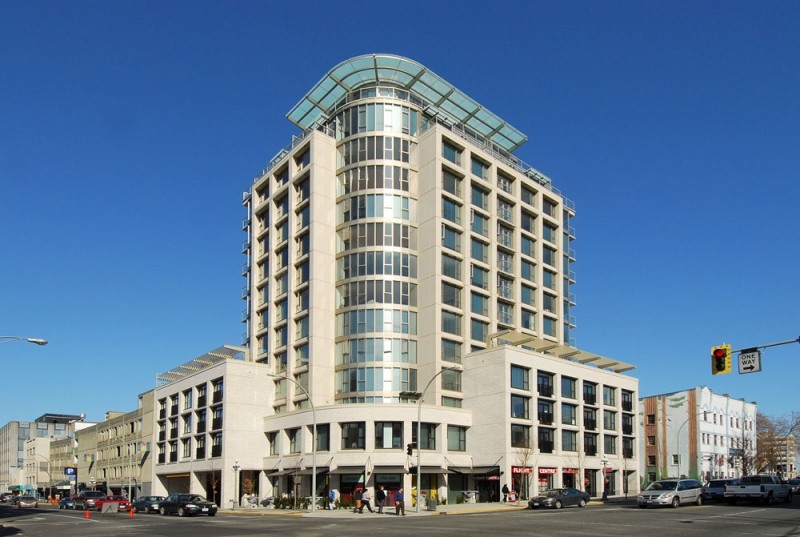 | | |
| --- | --- |
| Number of units: | 96 |
| Number of floors: | 15 |
| Pool: | no |
| Gym: | no |
| Storage lockers: | yes |
| Bike storage: | yes |
| Parking: | underground secure |
| Rentals: | yes |
| Vacation rentals: | yes |
| Special features: | rooftop deck with barbecues |
With its three anchor retailers and unique curved glass façade, the 14-storey Juliet connected residential and commercial neighbours and laid the groundwork for a new micro-community, revitalizing this urban corner.
Located at the corner of Johnson and Blanshard streets in downtown Victoria, the design is contextual in its approach, especially sensitive to the heritage buildings to the north and south of the site on Blanshard Street. The building is expressed in rhythm, proportion, scale and materials as a more modern interpretation of the 'commercial' style present in these buildings. The corner is addressed by bringing the curved window wall from the top to the bottom of the building.

On Johnson Street, the four-storey portion, expressed in Tyndall stone, shields the blank sidewall of the adjacent parkade and relates to the scale of both it and the buildings across the street. On Blanshard Street the four-storey portion and its cornice tie together the streetscape of existing heritage buildings to the north and south. Accessible roof areas is landscaped with planters and pavers.
Current Listings
---